Triple Echo by Stavros Gasparatos and Jonah Bokaer
Onassis Cultural Centre, NY
2015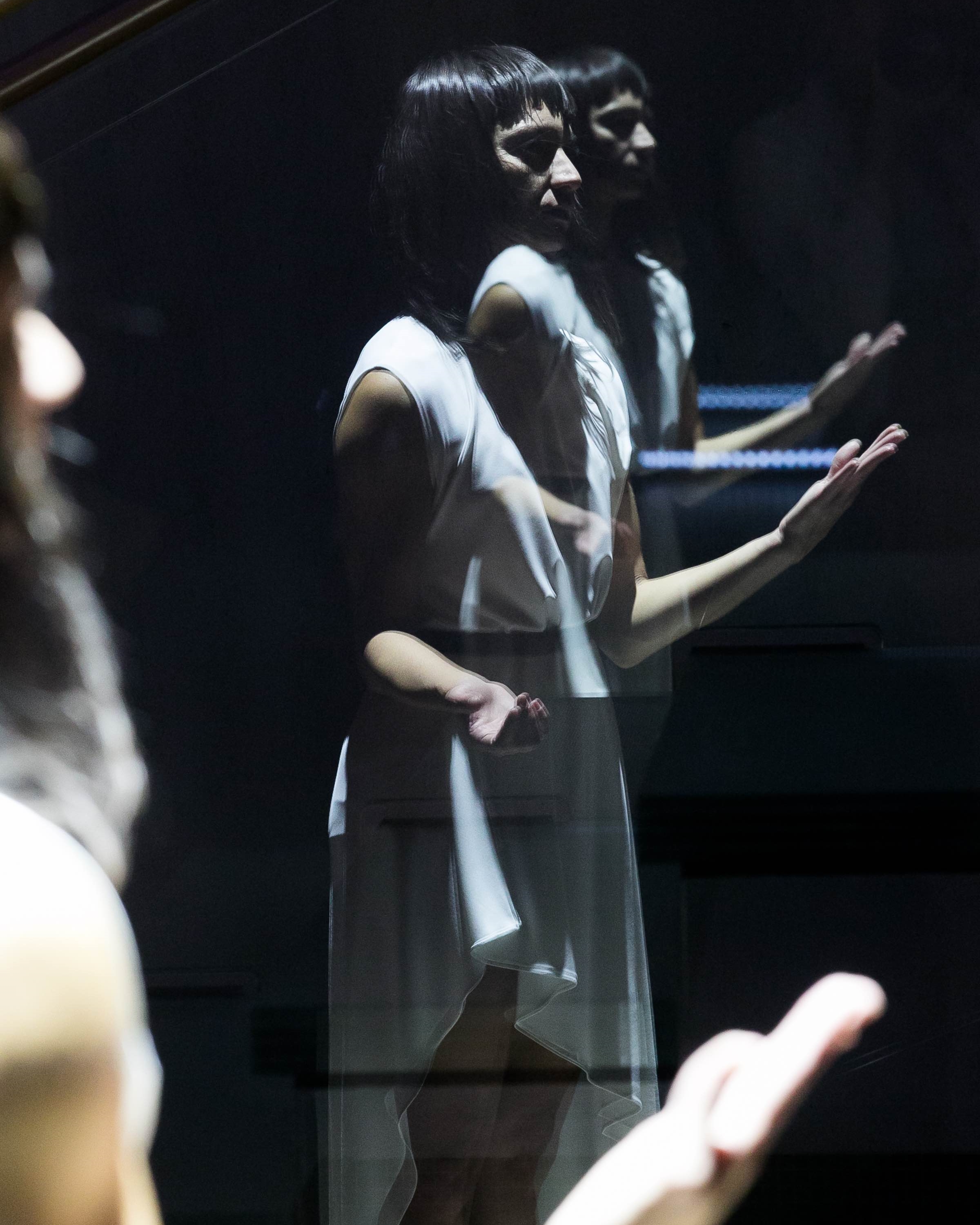 New York, NY, (October, 2015) -- Jonah Bokaer, American/Tunisian "contemporary dance's renaissance man" (The New York Times), and Stavros Gasparatos, a leading composer of the new Greek generation, team up with extraordinary collaborators for the world premiere of a site-specific dance and music creation, Triple Echo. Commissioned by the Onassis Cultural Center NY, the performance will launch the first annual Onassis Festival NY, titled Narcissus Now: The Myth Reimagined.Triple Echo consists of three solos, set to live music and danced by three remarkable performers: Bessie-Award recipient Hristoula Harakas; founding member of Shen Wei Dance Arts Sara Procopio; and co-creator of the newly made performing collective "....don't they?," Mata Sakka, a member of Sasha Waltz & Guests. Costumes are by "master of minimalism" (T Magazine) Narciso Rodriguez and lighting design is byAaron Copp (Bessie-Award with Jonah Bokaer, 2008).
Triple Echo draws its inspiration from the female figure of the myth of Narcissus, the nymph Echo. Bokaer explores the way mimesis, dance and self-reflection operate, how women view themselves while alone and what being a citizen of the Mediterranean means today. Gasparatos builds an 11-channel sound installation that illustrates the discourse between the subject and its reflections. The captured voice of Echo interacts with "The Rhythm Method" string quartet, performers and the acoustic space, and evolves into an endless emotional feedback between the music, the performance and the audience. Percussion is by Matt Evans and voice (recorded) by Savina Yannatou.
Audio Extracts
The performance will take place in the newly renovated Onassis Cultural Center gallery, gallery foyer and Olympic Tower Atrium, connected with a downward glass staircase and a waterfall leading to a pool. The music is designed to awaken the new space. Each solo will take place in one of the renovated areas with the audience moving at will across the expanse of the space to experience the event.
"The Onassis Cultural Center celebrates its 15-year presence right in the heart of NYC. We are grateful to the public of this great city for embracing our work through all these years," states the President of the Onassis Foundation Dr. Anthony Papadimitriou. "Now the time has come to move forward, to enhance the presence of the present and the future of Greek culture, to bring together the ancestors and the descendants. With a larger team of people, and fruitful collaborations with significant organizations like BAM and the NYPL, we evaluate, create bridges, and magnify the spectrum of our audience and our content."
Presented by the Onassis Cultural Center NY and running October 8-11, Narcissus Now: The Myth Reimagined is a festival of arts and ideas which offers a kaleidoscopic view of the myth of Narcissus through music, visual art, film, science, literature, choreography, culinary arts, fashion and digital media. The festival will feature over 40 free events for audiences of all ages in New York City.